Updated September 2018
In today's fast-paced technology industry, data-driven B2B marketers turn to industry statistics as a way to benchmark their current marketing efforts and plan ahead for future campaigns. Additionally, these types of statistics can help validate marketing recommendations and budget requests to the executive team. Below are eight must-have B2B marketing stats around email marketing, SEO and blogging that every data-driven marketer will want to keep in their back pocket.
B2B Marketing Stat #1: Organic Links are Clicked on Most Often
According to clickstream data from Jumpshot, 65.72% of search users click on organic search results first, as compared to 71.57% just three years ago. Though paid CTR takes a considerably smaller chunk at 3.82%, the share of paid clicks are growing, most notably on mobile. In the current landscape, SEO strategies seem to hold the most promise for audiences with heavy desktop use, whereas PPC could prove to be effective in reaching mobile audiences.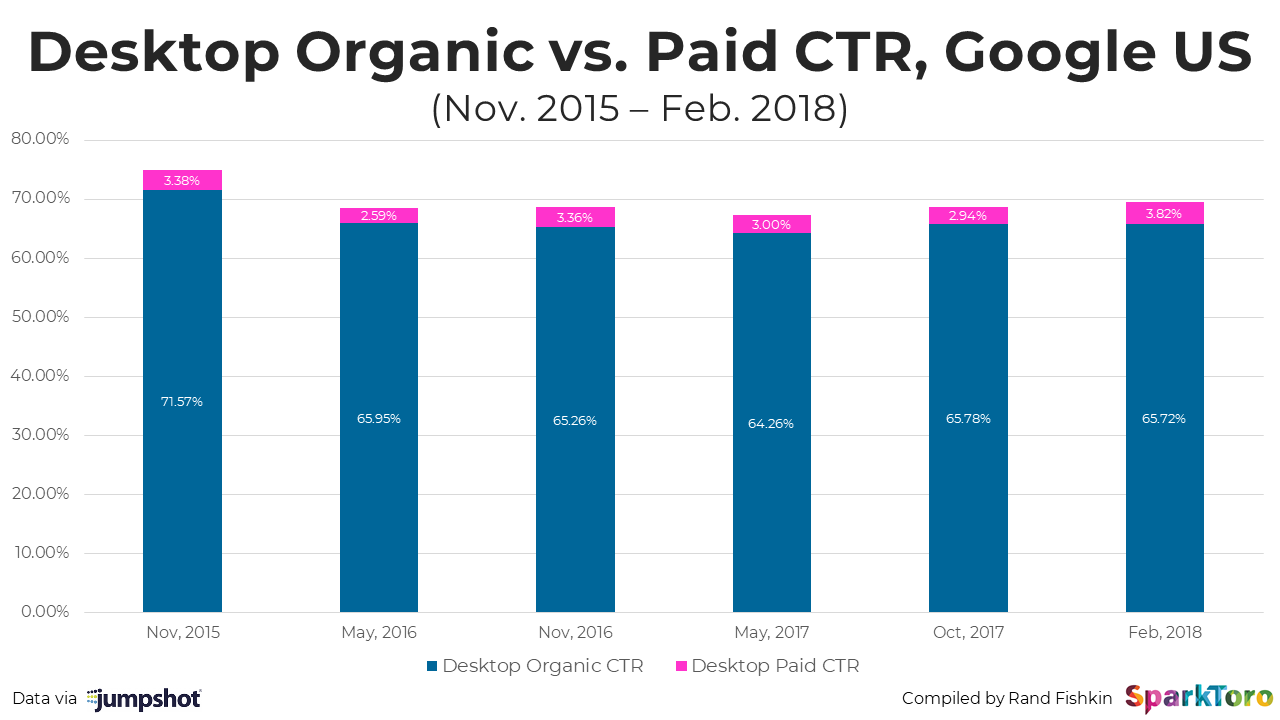 B2B Marketing Stat 2: The Top Three Organic Search Results Get the Most Traffic
About 60% of all organic clicks are on links in the first three positions. Check out Advanced Web Ranking's CTR study to see how they track click-through rates by search position on a monthly basis.
B2B Marketing Stat 3: Blogs Help Your SEO Efforts
Companies that have a blog have 97% more inbound links, on average, than companies that do not have a blog. In general, blogs provide more content for readers to consume and share. Blog content also tends to fall under the thought leadership umbrella, whereas product-centric page content can be too self-serving to bring in non-branded searches.
B2B Marketing Stat 4: Blogs Increase Website Visitors
Because blogging boosts SEO, companies that blog have 55% more website visitors than companies that do not.
B2B Marketing Stat 5: Blogging Brings More Qualified Leads
According to HubSpot's State of Inbound report, inbound marketing tactics like blogging, SEO and social media bring in higher-quality leads as compared to prospected or purchased leads. In 2018, 60% of marketers saw the highest-quality leads come from inbound practices. A previous version of this report showed that companies with a blog generated 67% more leads than companies without one.
B2B Marketing Stat 6: Email ROI is High
Email has among the highest ROI of all marketing channels. With a median ROI of 122%, it beats tactics like social media and direct mail more than 4 times over. The average return for every dollar invested is $38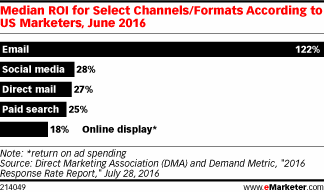 B2B Marketing Stat 7: Email Must be Optimized for Mobile
Data from Litmus Email Analytics for the first half of 2017 show that mobile opens account for 47% of all opens on average. In fact, Apple's iPhone currently holds the largest email client market share, meaning most emails are opened on an iPhone.
Email client share varies by database and industry, so these numbers may not apply to your business. However, they clearly illustrate the importance of optimizing for mobile.
As with all statistics, take these as a starting point for your marketing recommendations and continually test what works best for your industry.  There are many varying characteristics between audiences and industries, so you may find that what works best for your industry may differ from the industry standard.